VMA 2017 abandona distinções de gênero e ganha prêmio "político"
Além das novidades, a MTV também anunciou nesta terça-feira (25) os indicados - dentre os principais, Kendrick Lamar, Katy Perry e The Weeknd.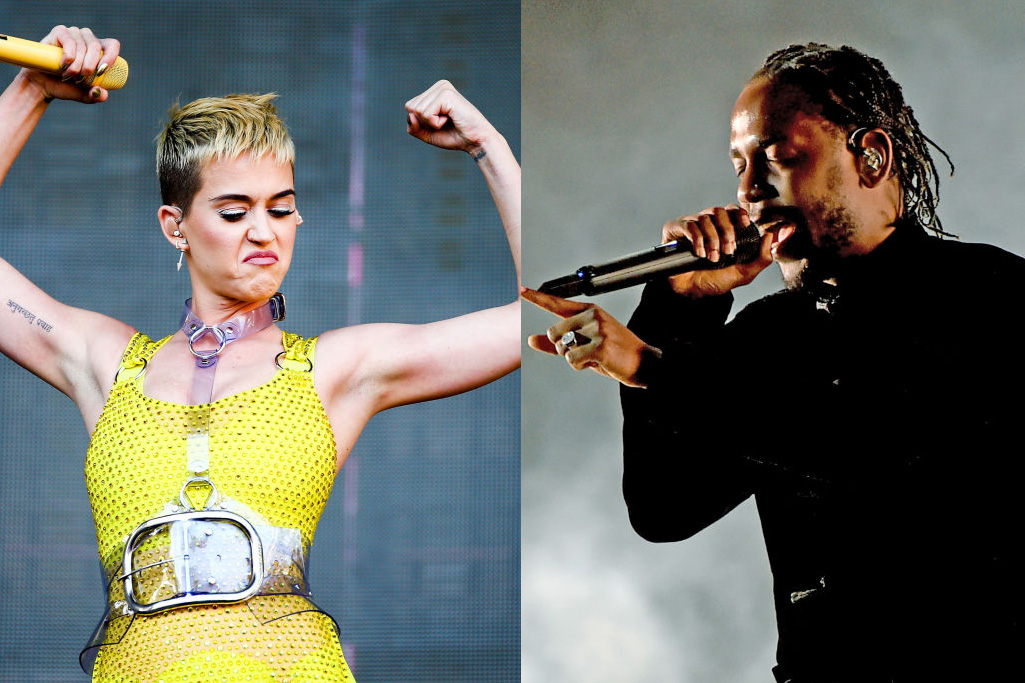 Depois de abandonar a distinção de gênero na hora de premiar os melhores atores e atrizes durante o Movie & TV Awards, em maio deste ano, a MTV anunciou nesta terça-feira (25) uma novidade semelhante para o Video Music Awards, o VMA.
As categorias Melhor Clipe Masculino e Melhor Clipe Feminino, por exemplo, agora se juntaram em uma só, Clipe do Ano. Não é maravilhoso?
Além disso, 2017 também tem outra novidade na premiação, a categoria de Melhor Luta Contra o Sistema (que já existia no Movie & TV Awards). A ideia é celebrar vídeos que inspiram os espectadores a se levantar e lutar contra as injustiças.
Leia mais: Emma Watson ganha o primeiro prêmio sem gênero da história
Na edição deste ano, os principais indicados do VMA são Kendrick Lamar, em oito categorias diferentes, Katy Perry e The Weeknd, ambos em cinco categorias diferentes.
A premiação acontece na cidade de Inglewood, na Califórnia, e vai rolar no dia 27 de agosto, às 20:00, horário local. Isso quer dizer que, aqui, poderemos assistir ao evento a partir da meia noite do mesmo dia.
Conheça todos os indicados:
Clipe do Ano
Kendrick Lamar – "HUMBLE." (TDE/Aftermath/Interscope)
Bruno Mars – "24K Magic" (Atlantic Records)
Alessia Cara – "Scars To Your Beautiful" (Def Jam)
DJ Khaled ft. Rihanna & Bryson Tiller – "Wild Thoughts" (Epic Records/We The Best)
The Weeknd – "Reminder" (XO/Republic Records)
Artista do Ano
Bruno Mars (Atlantic Records)
Kendrick Lamar (TDE/Aftermath/Interscope)
Ed Sheeran (Atlantic Records)
Ariana Grande (Republic Records)
The Weeknd (XO/Republic Records)
Lorde (Republic Records)
Artista Revelação
Khalid (RCA Records)
Kodak Black (Atlantic Records)
SZA (TDE/RCA Records)
Young M.A (3D)
Julia Michaels (Republic Records)
Noah Cyrus (Records)
Melhor Colaboração
Charlie Puth ft. Selena Gomez – "We Don't Talk Anymore" (Atlantic Records)
DJ Khaled ft. Rihanna & Bryson Tiller – "Wild Thoughts" (Epic Records/We The Best)
D.R.A.M. ft. Lil Yachty – "Broccoli" (Atlantic Records)
The Chainsmokers ft. Halsey – "Closer" (Disruptor Records/Columbia Records)
Calvin Harris ft. Pharrell Williams, Katy Perry & Big Sean – "Feels" (Columbia Records)
Zayn & Taylor Swift – "I Don't Wanna Live Forever (Fifty Shades Darker)" (Republic Records)
Melhor Clipe Pop
Shawn Mendes – "Treat You Better" (Island Records)
Ed Sheeran – "Shape of You" (Asylum/Atlantic Records)
Harry Styles – "Sign Of The Times" (Columbia Records)
Fifth Harmony ft. Gucci Mane – "Down" (Syco Music/Epic Records)
Katy Perry ft. Skip Marley – "Chained To The Rhythm" (Capitol Records)
Miley Cyrus – "Malibu" (RCA Records)
Melhor Clipe de Hip Hop
Kendrick Lamar – "HUMBLE." (TDE/Aftermath/Interscope)
Big Sean – "Bounce Back" (Def Jam)
Chance the Rapper – "Same Drugs" (Chance the Rapper LLC)
D.R.A.M. ft. Lil Yachty – "Broccoli" (Atlantic Records)
Migos ft. Lil Uzi Vert – "Bad & Boujee" (300 Entertainment)
DJ Khaled ft. Justin Bieber, Quavo, Chance the Rapper & Lil Wayne – "I'm The One" (Epic Records/We The Best)
Melhor Clipe de Música Eletrônica
Zedd and Alessia Cara – "Stay" (Interscope)
Kygo x Selena Gomez – "It Ain't Me" (Ultra/Interscope)
Continua após a publicidade
Calvin Harris – "My Way" (Columbia Records)
Major Lazer ft. Justin Bieber and MØ – "Cold Water" (Mad Decent)
Afrojack ft. Ty Dolla $ign – "Gone" (Wall Recordings/Latium/RCA Records)
Melhor Clipe de Rock
Coldplay – "A Head Full of Dreams" (Parlophone/Atlantic Records)
Fall Out Boy – "Young And Menace" (Island)
Twenty One Pilots – "Heavydirtysoul" (Fueled by Ramen/Atlantic Records)
Green Day – "Bang Bang" (Warner Bros. Records)
Foo Fighters – "Run" (RCA Records)
Melhor Luta Contra o Sistema
Logic ft. Damian Lemar Hudson – "Black SpiderMan" (Race & LGBTQ) (Def Jam)
The Hamilton Mixtape – "Immigrants (We Get the Job Done)" (Immigration) (Atlantic Records)
Big Sean – "Light" (Race) (Def Jam)
Alessia Cara – "Scars To Your Beautiful" (Body image) (Def Jam)
Taboo ft. Shailene Woodley – "Stand Up / Stand N Rock #NoDAPL" (Environment)
John Legend – "Surefire" (Immigration & Anti-Muslim hate) (Columbia Records)
Melhor Fotografia
Kendrick Lamar – "HUMBLE." (TDE/Aftermath/Interscope) (Scott Cunningham)
Imagine Dragons – "Thunder" (KIDinaKORNER/Interscope) (Matthew Wise)
Ed Sheeran – "Castle On The Hill" (Asylum/Atlantic Records) (Steve Annis)
DJ Shadow ft. Run The Jewels – "Nobody Speak" (Mass Appeal Records LLC) (David Proctor)
Halsey – "Now or Never" (Astralwerks/Capitol) (Kristof Brandl)
Melhor Direção
Kendrick Lamar – "HUMBLE." (TDE/Aftermath/Interscope) (Dave Meyers & the little homies)
Katy Perry ft. Skip Marley – "Chained To The Rhythm" (Capitol Records) (Mathew Cullen)
Bruno Mars – "24K Magic" (Atlantic Records) (Cameron Duddy & Bruno Mars)
Alessia Cara – "Scars To Your Beautiful" (Def Jam) (Aaron A)
The Weeknd – "Reminder" (XO/Republic Records) (Glenn Michael)
Melhor Direção de Arte
Kendrick Lamar – "HUMBLE." (TDE/Aftermath/Interscope) (Spencer Graves)
Bruno Mars – "24K Magic" (Atlantic Records) (Alex Delgado)
Katy Perry ft. Migos – "Bon Appetit" (Capitol Records) (Natalie Groce)
DJ Khaled ft. Rihanna & Bryson Tiller – "Wild Thoughts" (Epic Records/We The Best) (Damian Fyffe)
The Weeknd – "Reminder" (XO/Republic Records) (Creative Director: Lamar C Taylor / Co-creative Director: Christo Anesti)
Melhor Efeito Visual
Kendrick Lamar – "HUMBLE." (TDE/Aftermath/Interscope) (Company: Timber/Lead: Jonah Hall)
A Tribe Called Quest – "Dis Generation" (Epic Records) (Company: Bemo/Lead: Brandon Hirzel)
KYLE ft. Lil Yachty – "iSpy" (Atlantic Records) (Company: Gloria FX/Leads: Max Colt & Tomash Kuzmytskyi)
Katy Perry ft. Skip Marley – "Chained To The Rhythm" (Capitol Records) (Company: MIRADA)
Harry Styles – "Sign Of The Times" (Columbia Records) (Company: ONE MORE/Lead: Cédric Nivoliez)
Melhor Coreografia
Kanye West – "Fade" (Def Jam) (Teyana Taylor, Guapo, Jae Blaze & Derek 'Bentley' Watkins)
Ariana Grande ft. Nicki Minaj – "Side To Side" (Republic Records) (Brian & Scott Nicholson)
Kendrick Lamar – "HUMBLE." (TDE/Aftermath/Interscope) (Dave Meyers)
Sia – "The Greatest" (Monkey Puzzle Records/RCA Records) (Ryan Heffington)
Fifth Harmony ft. Gucci Mane – "Down" (Syco Music/Epic Records) (Sean Bankhead)
Melhor Edição
Future – "Mask Off" (Epic Records/Freebandz/A1) (Vinnie Hobbs of VHPost)
Young Thug – "Wyclef Jean" (300 Entertainment/Atlantic Records) (Ryan Staake & Eric Degliomini)
Lorde – "Green Light" (Republic Records) (Nate Gross of Exile Edit)
The Chainsmokers ft. Halsey – "Closer" (Disruptor Records/Columbia Records) (Jennifer Kennedy)
The Weeknd – "Reminder" (XO/Republic Records) (Red Barbaza)
Continua após a publicidade